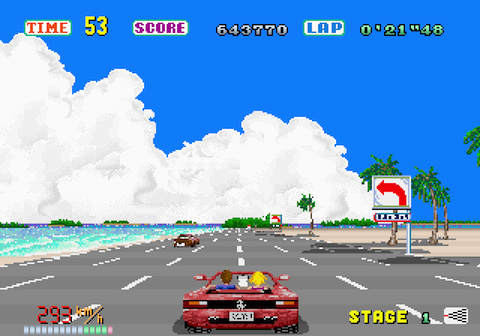 What is the Serial Number Index?

When I speak to fellow arcade machine collectors I'm always fascinated to learn the history of their machines. Details such as where it had previously been located and who has owned it over the years simply add more charm to an already desirable cabinet.

With Out Run being one of my all-time favourite machines I decided to start putting together my own potted history of Out Run machines. While the list isn't lengthy I'm already starting to see ownership of Out Run cabs transfer from one collector to another.

I got the idea of putting together an Out Run serial number directory after seeing a similar project over on the World of Spectrum Forums. There, a keen forumite was interested in collecting not only the serial numbers, but other interesting bits of info and trivia relating to each machine. At present, the Spectrum Serial Numbers List covers around 1,600 machines.

I don't expect the list of machines in my Out Run Serial Numbers list will get anywhere near that number, but it would be great if this list could continue to grow. So, if you're an Out Run owner, or know where there's a machine that's not listed, please let me have as much information about it as possible so I can add it below.


How You Can Help

If you own an Out Run machine that I don't have listed below, or know more about the history of one that I already have in the serial number index then please get in touch.

I'm always on the lookout for further details to add to this page, and any information, no matter how small, is always appreciated.

Total machines listed at present - 25


11741 - Sitdown - According to the owner the serial number on the side of the machine is 209353
12364 - Sitdown - This is a deluxe sitdown motion cab. The machine was still on site after 32 years, in Herne Bay, Kent. It was purchased in 2018 when the arcade it was in closed down. The machine was converted to Turbo Outrun during its life. As of August 2018, it is currently being fully restored back to its original Outrun configuration. Check out the thread on UKVAC.
14462 - Sitdown - Cab serial 212928. Date on sticker, Nov 21 1986. Purchased by current owner in 2014. Has been electrically restored. Cosmetic restoration underway.
17262 - Sitdown - Bought from a UKVAC forum member in April 2015.
18403 - Mini Upright - Made in England. Cab serial 218825. Working but needs restoring.
18502 - Mini Upright - Made in England. Cab serial 218925. Board serial 861211. Full details (in German) of this cab can be found here.
18691 - Deluxe Upright - Owned by Cheltenham, UK based arcade collector, Gary Smith.
20736 - Deluxe Upright - This cab has been with its current owner since approx 1999. It was bought from a group of students living in a terraced house just outside St Paul's Bristol. The purchase price was £250. The machine was at one point located in "Mad Harry's" arcade in Bristol town centre. When purchased, the wheel logo was missing. It now has a repro version produced by Gary Smith. Around June 2014 this developed a problem with the background and road. The PCB was sent off and successfully repaired by Mark over at RetroClinic.com
20824 - Sitdown - The owner paid £150 for the machine, and it actually cost more than that to transport home! Pictures documenting the machine's restoration can be found at: http://www.miragedisco.co.uk/arcade/
21210 - Mini - Purchased in March 2015 from a seller in Jutland. Price paid 5000 kr (£580). The pedals and footplate have been painted black, and the side art is in good condition. Unfortunately, the gas pedal has been replaced with a hinge.
22252 - Deluxe Upright - PCB Serial No: 837-6063-02 Rev A, IC Serial No (sticker on back door) 870226.9413E. This is an American machine and still operates on 110V. Imported from Illinois, USA in 2005 as a fully working machine. $125 USD (approx £250 GBP at the time) paid for the machine only (import charges extra!). Comprehensively restored over 2009 - 2011 with many New Old Stock parts. According to the owner, this is "Now in possibly better condition than when new".
22455 - Mini - This cost the current owner a mere £50 plus van hire. Required cosmetic restoration, chassis repair and a steering wheel badge.
22849 -Deluxe Upright - US cabinet, converted to UK voltage. Matching serials on cab and PCB. Paid £950 from eBay in Dec 2013.
22928 - Mini - Note: Serial number has been taken from the bezel, but this originally came from another machine. Machine serial is 227958. A mini upright, manufactured under licence from Brent Leisure. Acquired in 2010 for £167. Was a mess when purchased, but a solid shell to restore. Board set repaired by Mark at Retroclinic. Owner has touched up the front plate. All metal work has been powder coated and rubber matting has been replaced. It has new steering springs and a new A and B gear that need fitting when the current ones finally break. When purchased steering wheel logo and map topper were present.
22929 - Mini - Runs MAME and has an LCD monitor installed. A video of it running can be found here: http://youtu.be/Aa7uIewtekU. Owner has acquired a few Out Run boards and plans to put a proper monitor back in and get it running original hardware once more.
22999 - Mini - Restoration completed in August/September 2017. This cab has been fully cleaned and has all new metal gears in the steering assembly. The pedal assembly has been chrome plated, new decals have been applied and minor structural damage to the cab has been fixed. The machine was assembled in the UK and has "Deutsche Mark" Coin inserts. The owner points out that it must have been on location in Croatia for some time as it has a coin mech for Croation Kuna and had a "2 Kuna 1 Play" sticker on the coin door. The cab was purchased from a seller in Budapest for 600 Euro and now resides in an apartment in Vienna.
23328 - Mini - Purchased in March 2017 from a producer at IO Interactive (The Hitman series of games). Price paid was 4500 kr (£513). The side art is in acceptable condition, but does have some scratches. The machine has been fitted with new steering wheel gears, and has its original steering wheel cap. The gear shifter is a little loose.
23750 - Deluxe Upright - Owned by a member of UKVAC.
24724 - Deluxe Upright - 27/08/2010 - Listed on Ebay under item number 280554466365. Staring price was £49.99. End price was £311.99 on 06/09/2010, with 13 bids. Seller was moonshine818.
24728 - Deluxe Upright - The owner tells me that he purchased this cab in Wood Green, London, in a very tatty condition. Since then it has been fully restored and currently gets played once or twice a week.
24746* - Mini - *The original Sega Seal is missing from this machine, and instead has a seal from an Outrun Deluxe cabinet that the owner presumes was junked. Purchase price was £200 back in 1997. You can find a full restoration log for this cabinet by visiting this link over on the JAMMA Plus Forums. Rear of Cabinet Serial/Coin Door Serial: 243463
24840 - Deluxe Upright - Owned by a member of UKVAC.
24996 - Mini - Converted to Turbo Outrun and then back again. Owner paid around £500 from eBay, back in November 2012. It's possible that this has since been scrapped following damage.
25783 - Mini - The owner tells me that he's had this since December 2012, and that it was already externally restored when he bought it. Since then he's rebuilt the steering and gear shifting mechanics with mostly NOS (new old stock) components, so the steering and gear changing is now pretty much as new and silky smooth.
25864 - Mini - September 2008 - Purchased by Ebay member Charlie's Bar. Final auction close price unknown. At some point after this date it must have been sold again, as in April 2015 it was being sold by Ebay member mikeguildford (Item number 281659814856). The starting price was £100. The seller mentioned that the steering wheel had been rebuilt and calibrated using genuine springs and gears from arcadeparts.com. Negative things the seller pointed out were that the image rolled unless the V-hold was tweaked at the back, and it also needed one new speaker. After a whopping 36 bids this machine finally sold on the 21st 2015 April for £1,224.48!